I am an avid bird watcher, especially for birds of prey. i live in a large city, for my area. I see evidence of birds that most people miss. i know what to look for. MANY people do not realize that hawks lurk right outside their doors, preying upon the little sparrows and robins in their front yards!
For those living in north america, i can briefly give a good list of every urban and suburban bird of prey or birds of interest that would no doubt attack a cockatiel. I will provide any pictures I have on hand, provide links to others, and provide links proving that they are indeed in cities!
Sharp Shinned Hawk
http://www.allaboutbirds.org/guide/s...hinned_hawk/id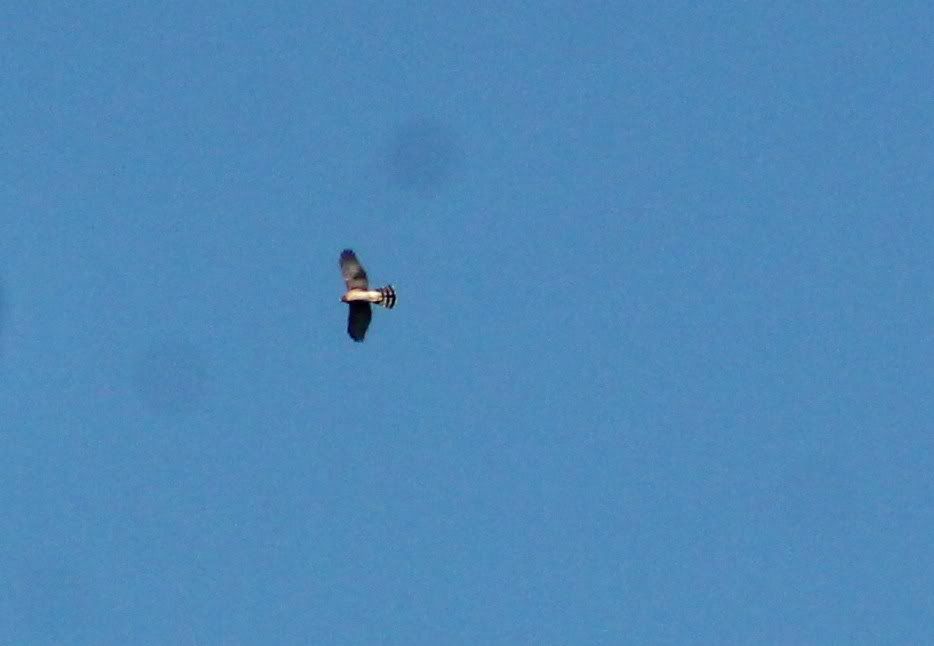 Found in cities and towns very frequently, i live in a city and the photo above was taken in the heart of my city. These birds are experts at catching birds, even in flight. They are capable of taking down birds as big as they are, which includes cockatiels, who are only slightly smaller than the females, and just as large as the males! They are also fairly bold and will often purposely chase small birds into windows for easy prey. They stalk bird feeders frequently as well. They are ambush predators and will not be seen often until too late.
This photo shows how small male sharpies are. This is a photo of one i had adopted as part of a conservation program, this guy was released into the wild after being caught and banded. He had made a kill prior to being caught! he is capable of taking a tiel!
This is my husband with his adopted female, notice much larger size, they would easily not think twice about grabbing a tiel!
Cooper's Hawk
http://www.allaboutbirds.org/guide/Coopers_Hawk/id
Larger relative of the sharp shinned hawk. Males of this species are about the same size as the female sharpies. Females of this species are large. They are fully capable of taking cockatiels and birds up to the size of sun conures. They lurk often in city parks and backyards. They are known to drown their prey and even chase it on foot! they are adaptive and like the sharpie, they are ambush predators. They are an accipiter hawk, meaning true hawk, and like true hawks they hunt specifically birds.
Merlin
http://www.allaboutbirds.org/guide/merlin/id
A small falcon, about the size of a smaller male sharpie. This bird is one that feeds almost exclusively on birds. It has become a regular city bird and is notorious among hawk watchers for disappearing nearly as soon as it is sighted as it is fast and direct. Females (the one in the above photo that i was holding many years ago, my first adopted raptor) are much larger than males and are capable of taking down a tiel. Notice in the link, one of the photos of the bird is a female merlin with a pigeon, which is the same size as the falcon. you can see how easy it would be for a tiel to fall victim.
American Kestrel
http://www.allaboutbirds.org/guide/American_Kestrel/id
Not as likely to attack or hunt large birds, mostly song birds, it's still a city falcon and one to be cautious about. Females are more of a danger.
Peregrine Falcon
http://www.allaboutbirds.org/guide/Peregrine_Falcon/id
sorry no personal photos of mine
This is a famous one for living in cities with skyscrapers. It nests in cities and takes birds as large as ducks. This bird can very well attack a cockatiel, no doubt, but you are more likely to see a cooper's or sharpie or merlin than a peregrine.
Red Tailed Hawk
http://www.allaboutbirds.org/guide/Red-tailed_Hawk/id
This is a large hawk, part of the buteo family of hawks. These hawks tend to soar in circles high in the sky and are defined by long broad wings, unlike the accipiters who have short broad wings for flying between trees and hedges. Red tails are adaptive hunters who can hover, kite (fly stationary into the wind), perch hunt, and chase down their prey and even stoop on their prey like peregrines. They are often found in cities and have been known to hunt birds.
Red Shouldered Hawk
http://www.allaboutbirds.org/guide/R...ldered_Hawk/id
(no photo sorry)
This is another buteo, and it's more common in suburbs down near Florida and the south-eastern states. It is found elsewhere in North America, but is more of a forest bird. This bird has been known to be an adaptive and skilled hunter and it should be given caution.
American Crow
http://www.allaboutbirds.org/guide/American_Crow/id
Sorry no personal photo
This bird isnt a bird of prey, but it is very famous for its intelligence and boldness. It has been very well known to attack birds and has been known to attack cockatiels and caged birds.
Be warned, if it isnt escape you want to worry about, its predators... Don't be fooled into thinking you are safe for living in a city!