This is the really
simple birdy bread
recipe i use:
1/2 cup wholemeal flour
1/4 cup polenta/cornmeal
1/4 cup crushed pellets
1 egg
1 tbsp baking powder (i leave this out)
1/2 cup water and/or fresh juice
1 cup chopped veggies/fruit/nuts/etc
Mix everything together, pour into a baking paper lined baking dish, bake for 20-30 mins on 200C or until a tooth pick comes out clean. I even have some pics cause i just made a batch yesterday!
All the ingredients ready to mix.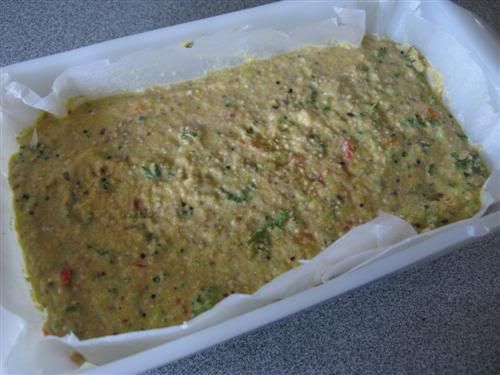 Mixed and in the baking dish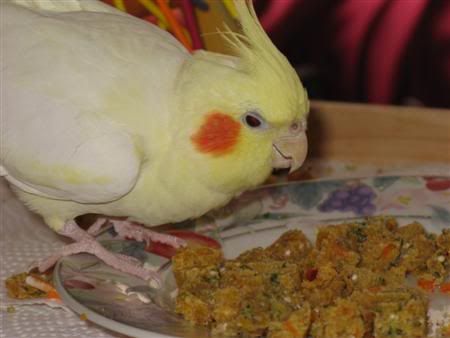 Old photo but same recipe, Gracie enjoying some birdy bread.
Another one my birds have enjoyed is
birdie cookies
:
1 cup 5 grain cereal mix
1/2 cup wholemeal flour
1/4 cup seed/pellets/nuts
1/2 tsp cinnamon
1/2 an egg
1/2 tsp vanilla essence
1/4 cup apple sauce
1/4 cup pumpkin baby food
Mix everything together, dry ingredients first, then wet, spoon onto cookie tray (in whatever sized cookie lumps you want), bake for approx. 10 mins at a medium temperature.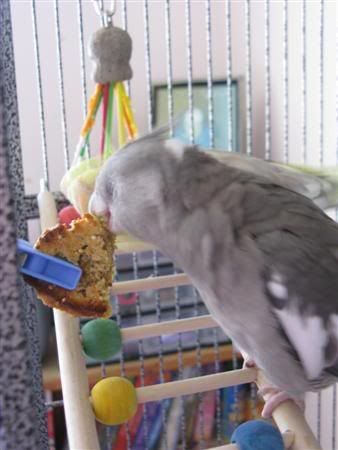 Cookie and Bailee (i almost didn't notice him) enjoying half a birdy cookie.
And last one is
homemade avicakes
, these were a hit with my fids as well.
2 cups cereal (something bird friendly of course, like cheerios)
2 cups pellets
2 cups seed mix
1 cup small pasta
enough honey to mix through the dry ingredients to make moist (easiest to warm honey first)
any nuts or dried fruits and veggies you would like to add
Mix all ingredients and spread out on cookie tray, bake on lowest possible temperature for as long as it takes for the honey to thicken everything and start to dry out, it's easiest to cut into pieces when warm. Can be stored in the freezer.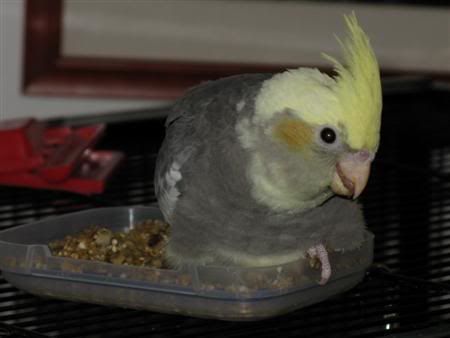 Snicky-baby eating some crumbled homemade avicake.
I'm going to try making homemade nutriberries tomorrow, if they go down well i'll share the recipe!
I also want to add that i decrease or increase the recipes depending on how much i want to end up with. For example i used double everything in the birdy bread i made yesterday, but when i made avicakes i only used about half.