I have tried the average typical methods that most people have success with in taming. But it did not work. I often wondered why and ended up frustrated with a bloody hand after trying to get my female lovebird to accept millet or sunflower seeds by hand in her cage. She ended up getting more and more aggressive.
I then let them become flighted and had given up on taming them, I had gotten them as babies and thought I could tame them easier, especially since the female was handfed from hatching. However, they were not socialized, and therefore were wild, and the handfeeding only made my female bold and not afraid to bite the hands that feed her.
I had realized that once flighted, they were more confident. I would leave the cage doors open for them and they would come out on their own. I would hold out paper (their "treat") or millet and they would fly to me for it. Eventually the female would fly over to me just to see what I was doing and to preen my hair.
It was then I had realized I had been going the wrong way about taming them, I needed a different tactic. So, I let them come to me. In time, they've had to be clipped again for safety reasons (female being so aggressive she was also attacking the other birds, in or out of the cage, and clipping restricted her reach of them) and the male lovebird was clipped as well to prevent him from getting bit through the cage bars should he land on her cage. Things regressed far with the male lovebird being clipped. I had since moved the other birds out of the room, so the room only has the two lovebirds in their own separate cages.
The female lovebird remains clipped to protect the male, but the male has recently become flighted again and I have noticed his confidence growing and after five months, he is finally exploring his whole new cage, instead of staying up top all the time. The female lovebird I no longer reach in her cage unless to give her food, water, or clean the cage or to add a new toy. To rearrange the cage, I make sure she is not in her cage and I am safe to change things inside for her.
This mutual agreement with her has really brought out her trust in me and now she is fully tame, she steps up, she runs over and interacts with us, shes not super cuddly but she does accept some scritches (headscratches) and she is not as aggressive in the cage. We let her come out of her cage and then we towel her to bring her to her playgym. The towel protects her and me. If she bites my hand untowelled there is always that chance she could be dropped, the towel prevents this from happening.
All it took was not forcing the taming upon them. The male still is not fully tame, he will let us hold him on his own terms, he likes laying in our hands, but he will not step up. Currently as of writing this sticky, it has taken me one year and seven months to build up the trust I have earned with them. So please, if your bird does not give you results even in a few weeks, never give up on them, as they may take years to fully trust you. However, the trust earned was based on respect and space and I find a stronger bond can be forged this way.
I just wished to share my experiences using these methods and maybe give hope and help to others with birds in this situation.
Here are some photos that may be of interest for people wanting to see the results:
For the female lovebird, this was her as a baby when we clipped her wings and worked on her stepping up, you can see by her reactions that this is not a method for her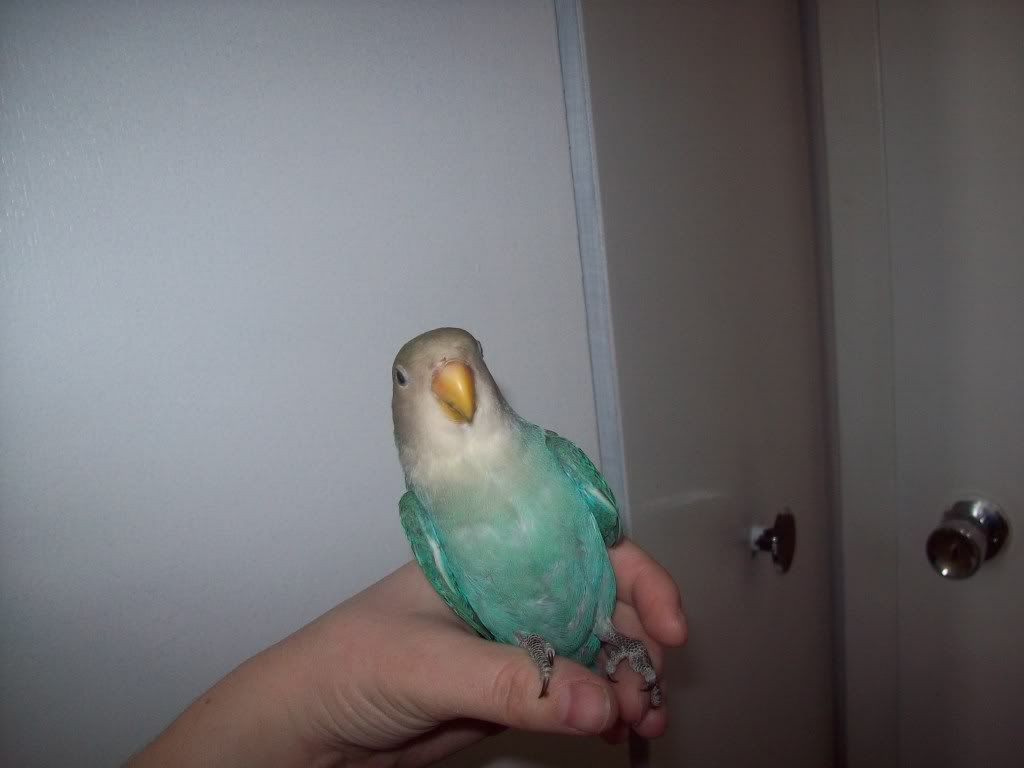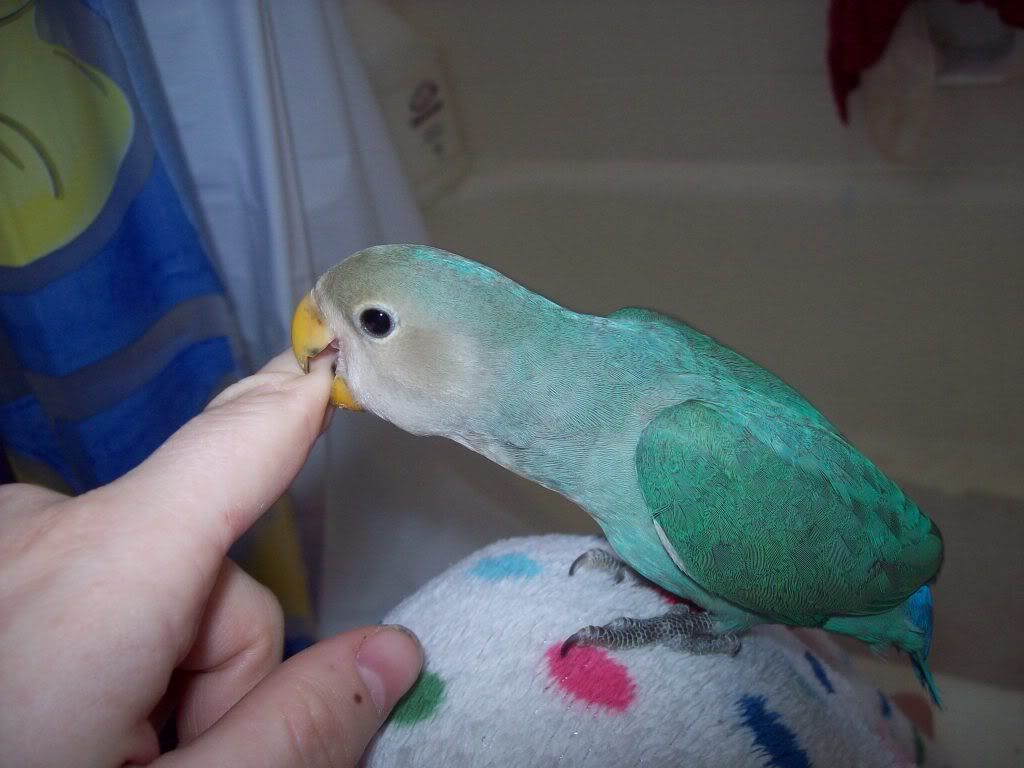 having her fly to me for the treats rather than me approaching her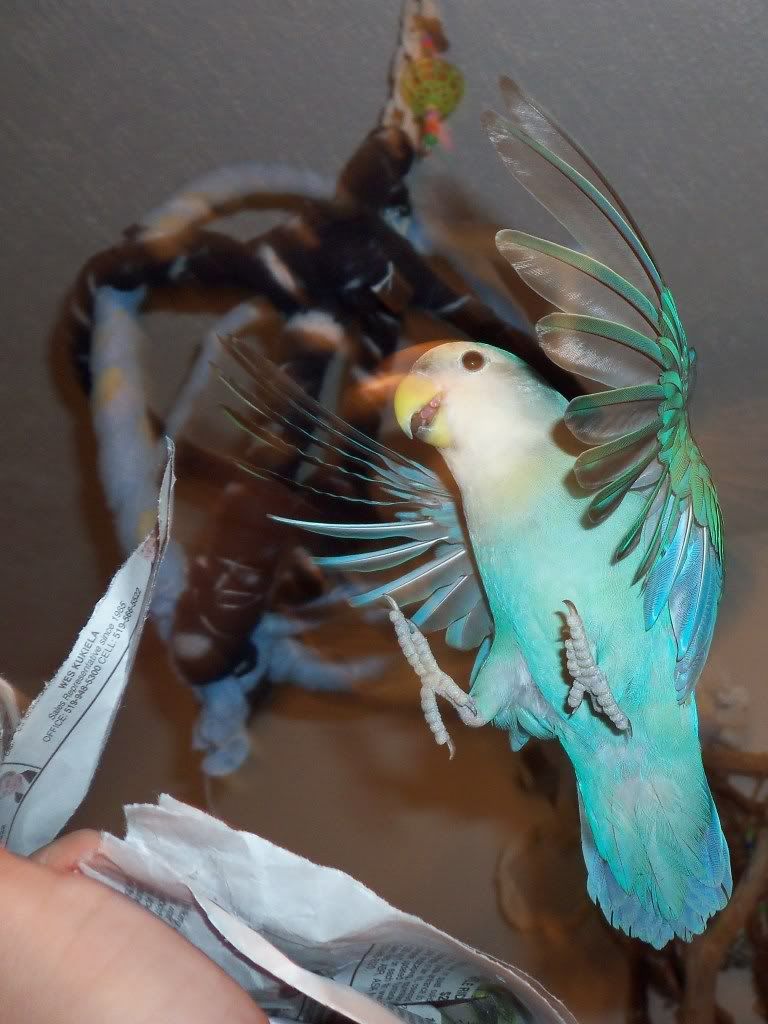 even the shy male would fly to me for a cup filled with toys and paper!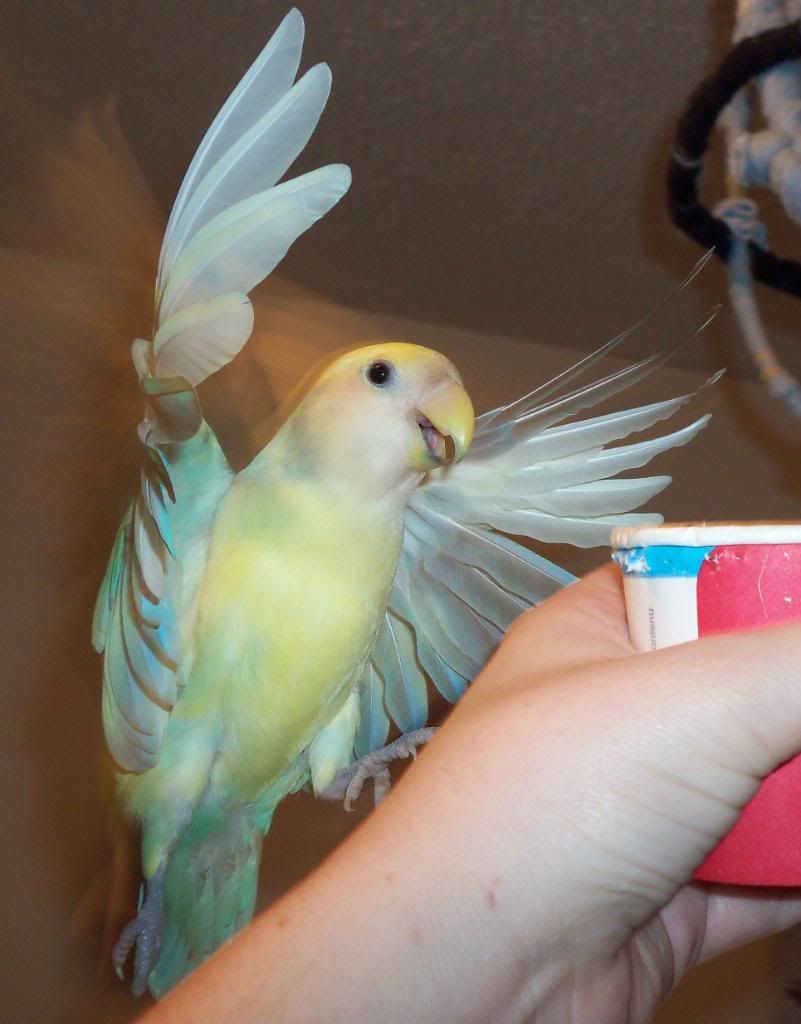 this show's their progress using this method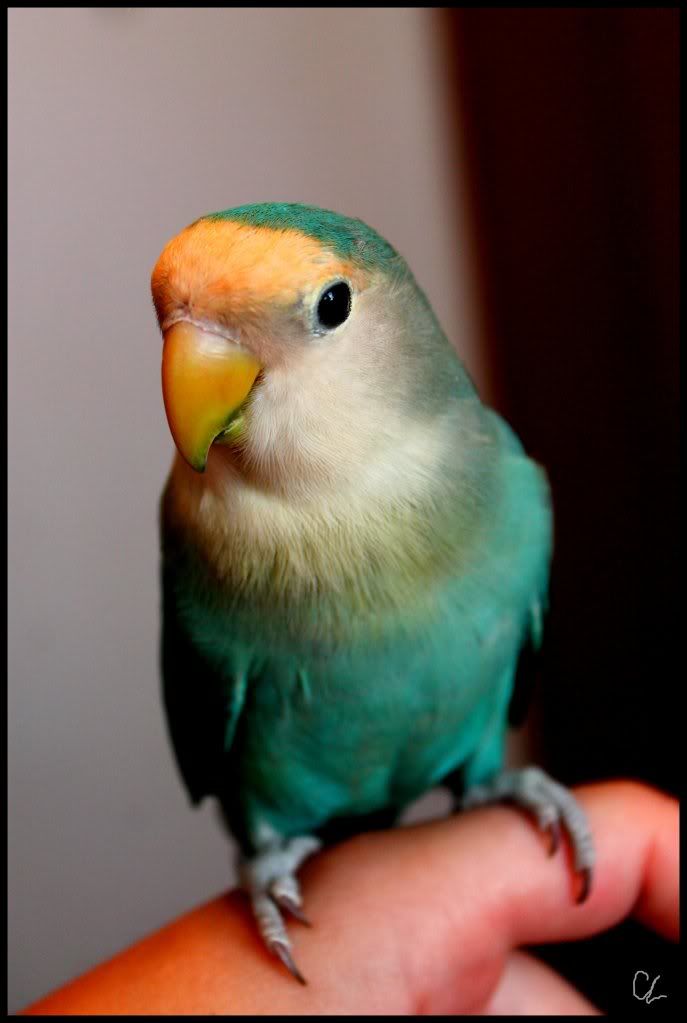 and a video of the female enjoying some scritches!
http://www.youtube.com/watch?v=2Y52HgJ7ykk
This method can be used for ANY bird, just my experience with untame skittish and aggressive birds are limited to my lovebirds, but this same method can help all of you with your birds of any species come to trust you more
Copyright Casey Meanney