First of all... This cage is huuuuge @_@ With the addition of the playtop (it arrived too badly bent to use; I'm working on getting a replacement part) it'll be taller than I am. It was an amazing deal, too..
Amazon
for the win! Anyway, I got a few pics of the current setup so I can get some pro tips on fun, practicality, and safety. (: Getting good photos of a cage is way harder than it looks.. serious props to you all, lol.
It was fun trying to think like a cockatiel while I was setting it up! I was careful not to put perches over food/water/forage bowls :P
The whole shebang.. (No worries about the mirror behind the cage.. I'll relocate it before I get my bird :P) I have all different kinds of toys and items in here so I can figure out what birdie likes.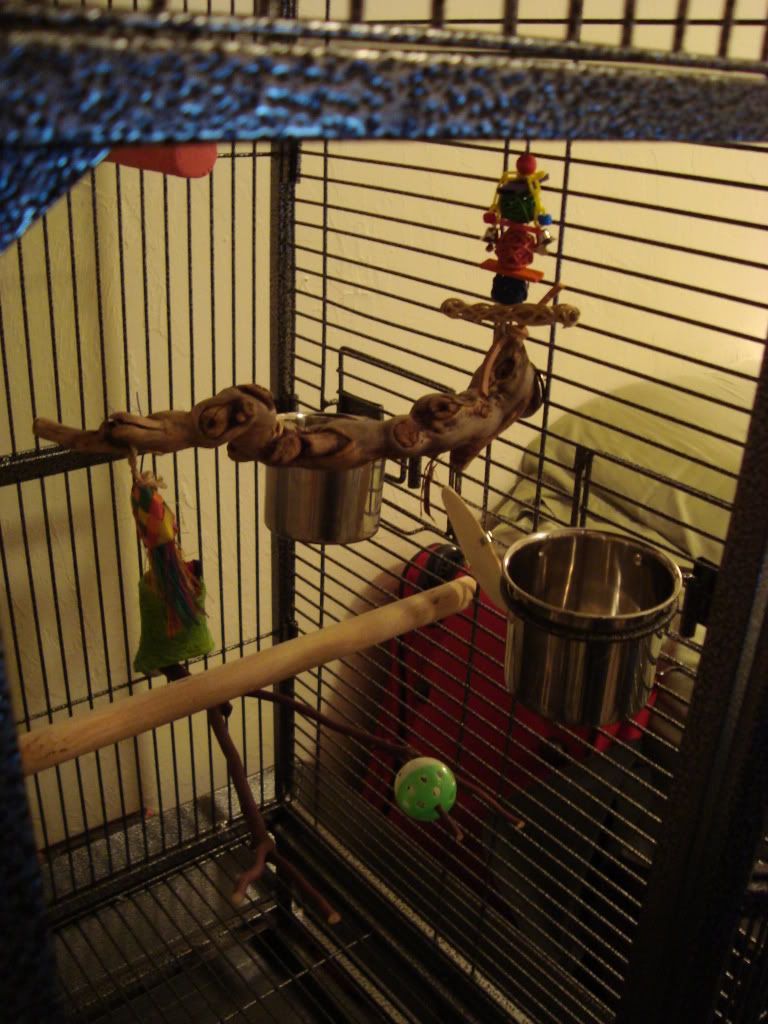 The right side of the cage.. I thought I'd use these two bowls for pellets/seeds and fresh food. There's a cuttlebone between them (I never realized how BAD cuttlebone smells!! I caught a whiff of it on my hand and almost gagged o__o) and a fun wicker/wood/leather/bell/etc. toy above the grapevine perch.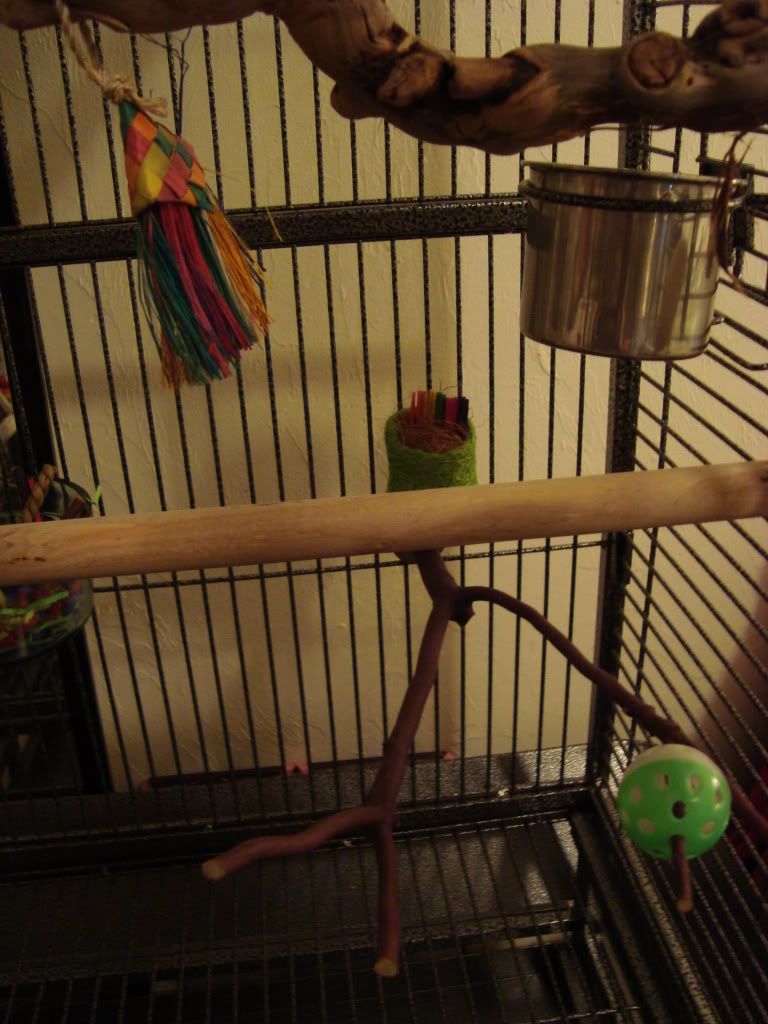 Another view.. you can see a fan toy, a shreddy pouch thing jammed with popsicle sticks, and a plastic ball with a bell inside (it spins freely on the branch.. thought that might be fun).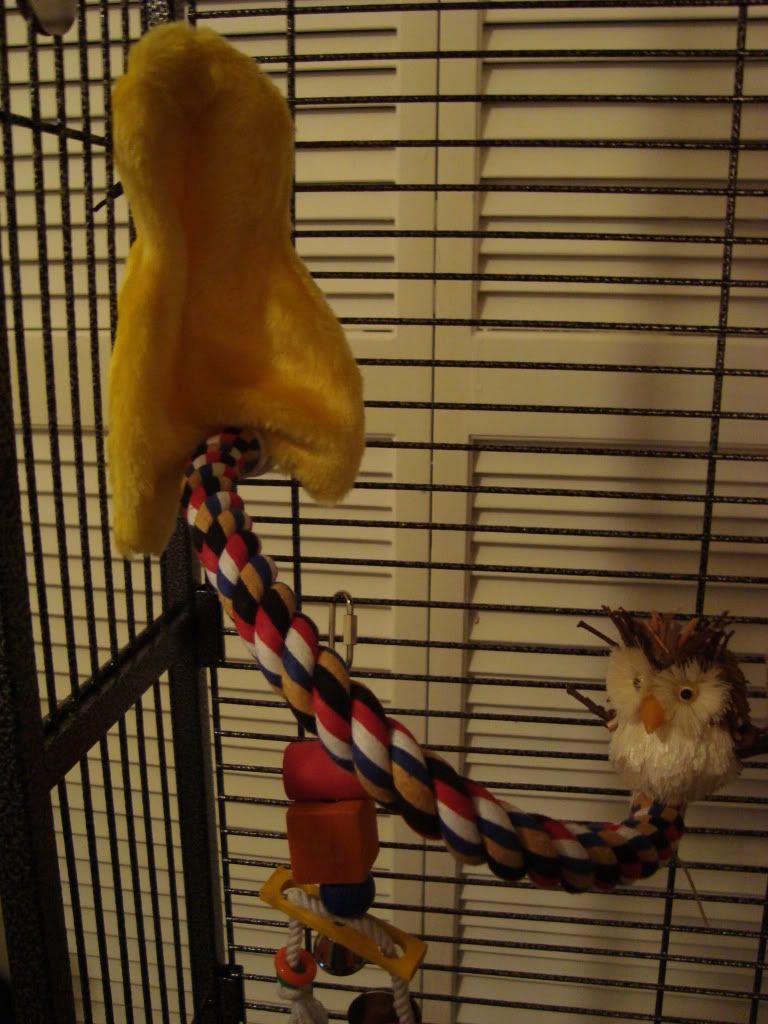 The front left corner, with a fuzzy corner thing (: It's supposed to help with drafts.. and I've heard some tiels just like something soft to snuggle against~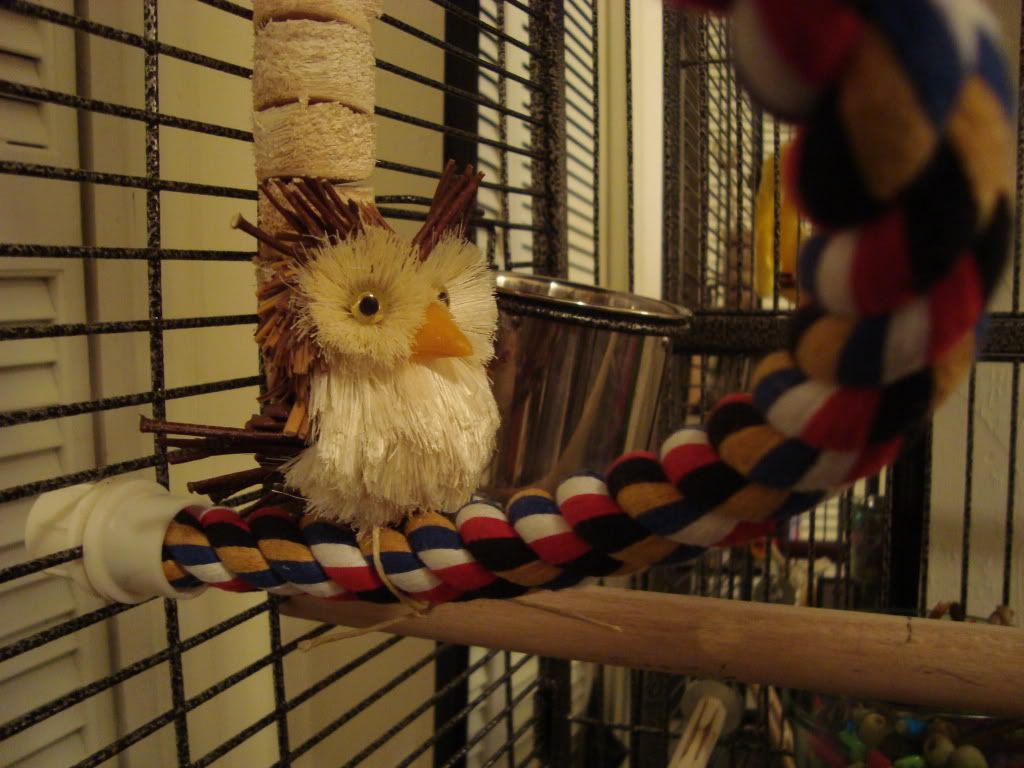 Quote:
And.. the owl xD I found this at Michael's and thought it was adorable (and probably fun to chew on). I'm not sure if it might pose a hazard, though, if birdie pulls off its eyes or something. I found it has a styrofoam core when I poked a hole through it, but it's *really* solidly built.. I think even the most destructive tiel would have trouble ripping it apart. Whatcha think, guys?
EDIT; The owl is outta there. (: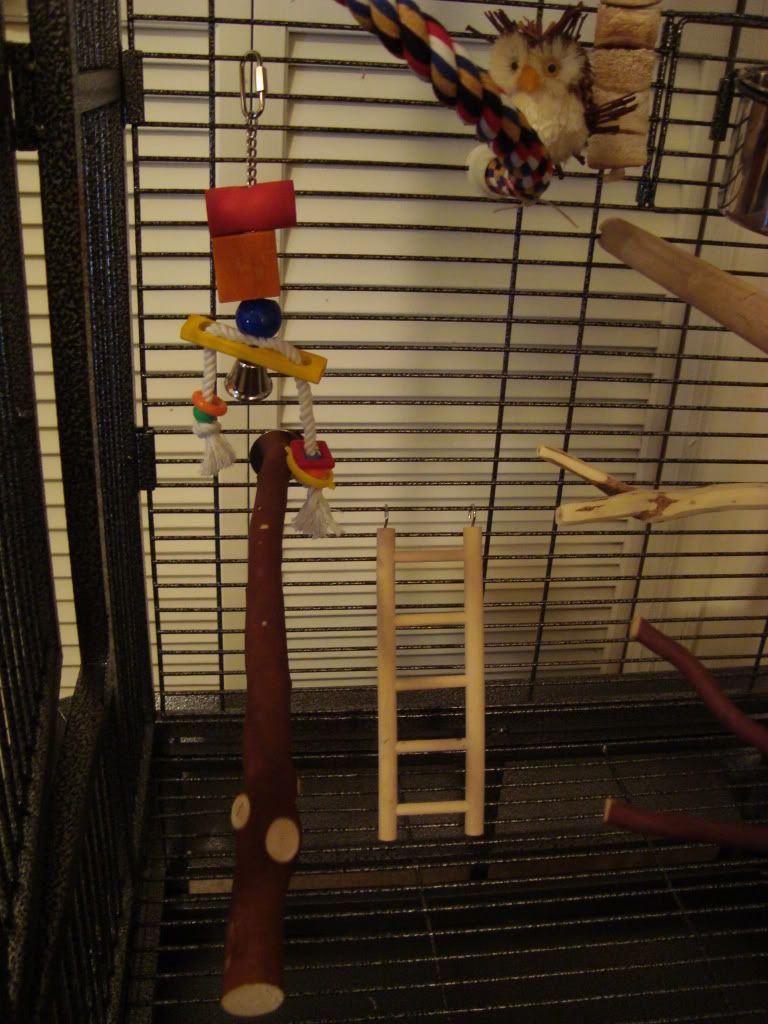 Front left corner.. the hardwood perch is parallel and close to the cage opening for easy in/out. The blocky toy and the ladder came with the travel cage I bought, so I just tossed 'em in. There's also a shreddy kabob toy next to the owl.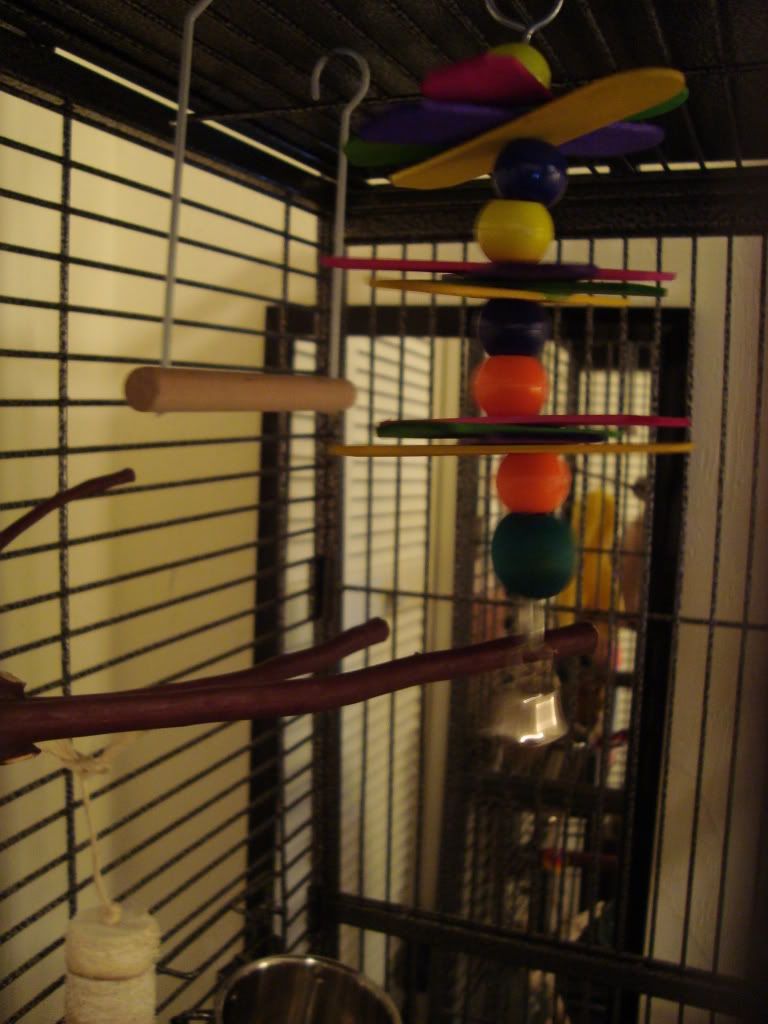 Apologies for the motion sickness.. I didn't realize I bumped the camera :P Top/left/front corner. The swing also came with the travel cage.. I don't think most tiels care for swings, but I tossed it in (x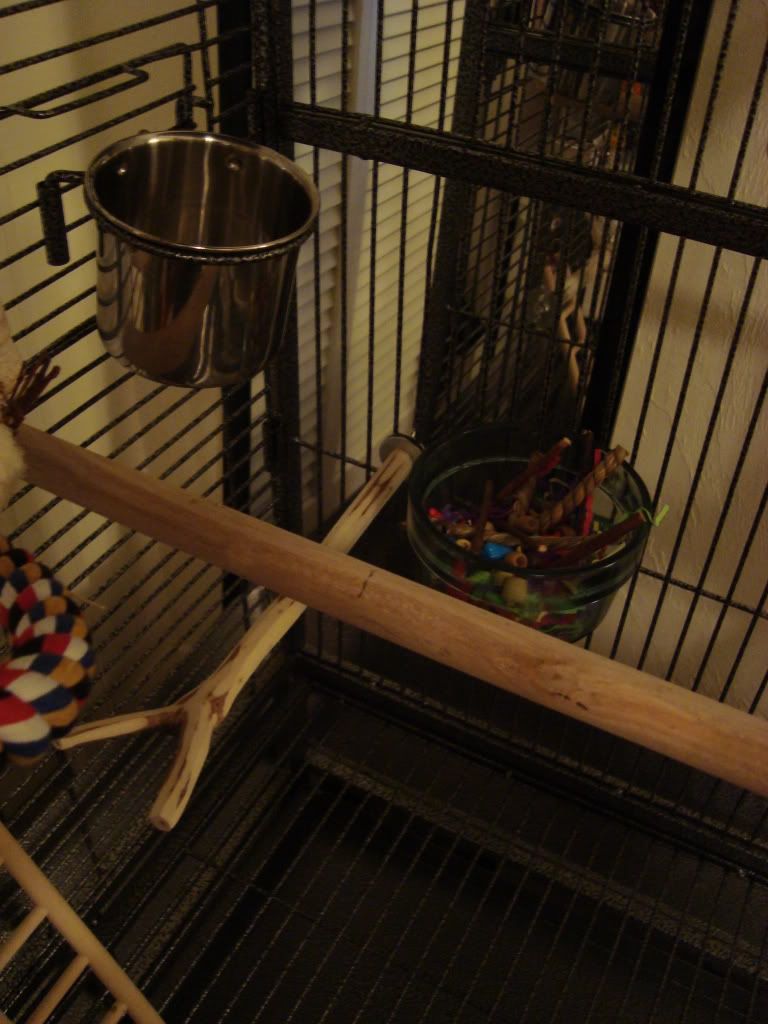 Back left corner.. I thought it'd be a good idea to put the water on the other side of the cage from the food to discourage dunking (: I also experimentally added a crock for foraging fun.
Close-up of the forage bowl.. I'm not really sure what to put in there @_@ I'll probably toss a few nutriberries in when I add the bird. Right now it's got seagrass and willow sticks (rodent chew toys), shredded paper, wooden beads, and plastic critter beads.
And.. I think that's about it (: What say you, tiel experts?
EDIT; Oh, and fun fact: I'm moving in a month. To a second-floor apartment. WHAT AM I GOING TO DO?! xD I might have to break it down for transport.. ughh